Toyota isn't just another name out of the dozens that make up the automotive market. It's one of the biggest brands the market has to offer. There's a reason for that.
When you visit a dealership like Toyota Carlsbad, you'll find a selection of new models that include some of the market's most diverse and dependable cars, trucks, and SUVs. Our inventory includes an array of the latest 2020 Toyotas.

What to Expect From our 2020 Toyota Lineup?
When you visit our dealership in Carlsbad, CA, you'll find a rich selection of new Toyotas waiting for you. These include an array of different models built for a slew of different purposes.
If you're looking for a sedan, for instance, our 2020 lineup includes options like the Toyota Corolla and Toyota Camry. We also have cars waiting like the full-sized Toyota Avalon. Offering powerful performance options and a range of excellent features, it's a comfortable and full-featured sedan. And if you want something hybrid? The Toyota Prius is an industry standard-setter.
We can likewise show you 2020 options for Toyota's award-winning SUVs. Drivers looking for something on the smaller side will find excellent candidates waiting in the subcompact Toyota CH-R and the compact Toyota RAV4. Our dealership also has new options waiting for popular models like the Toyota 4Runner and Toyota Highlander.
It doesn't matter if you're keen on something rugged for off-road driving, or spacious for your family road trips. Our 2020 SUVs have the options you need.
If you're interested in high performance, meanwhile, you'll find excellent options waiting in our selection of 2020 trucks. Our new inventory includes pickup trucks like the mid-sized Toyota Tacoma and the full-sized Toyota Tundra. The Tacoma offers a powerful V6 engine, as well as one of the best safety packages available in a modern pickup. The Toyota Tundra, similarly, impresses with a powerful standard V8 engine and a range of valuable options.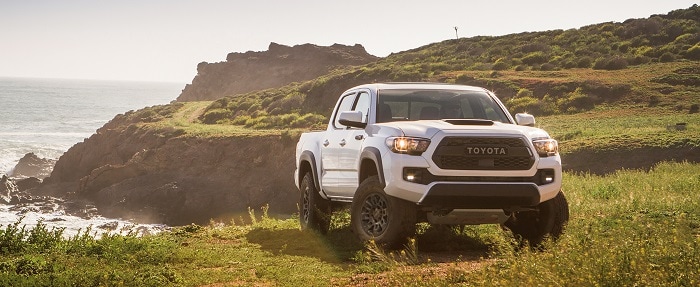 Explore Our New Toyota Financing and Specials
We have more at our dealership than new Toyota cars alone, though. When you visit our location in Carlsbad, CA, you'll also find an onsite finance center. Staffed by a team of experienced finance professionals, our dealership can offer you options for affordable loans and lease agreements.
We can also direct you to our latest finance specials. Depending on one what's available, we might be able to connect you to finance specials suited to the needs of the vehicle you want. We work with drivers of all sorts and can do the work of connecting you to the resources your vehicle purchase requires.
Schedule a 2020 Toyota Test Drive at Carlsbad Toyota Today
Would you like to know more about the 2020 Toyota options available at our dealership? The sales team at our dealership in Carlsbad, CA would be happy to schedule a time for you to come in and meet with us. We can tell you more about all the options waiting in our new Toyota inventory.
Most importantly, we can put you behind the wheel of a new Toyota car for a test drive. It doesn't matter what kind of car you're interested in, a few minutes behind the wheel will tell you everything you need to know about what our lineup has to offer.