Vehicle Service Specials near Carlsbad CA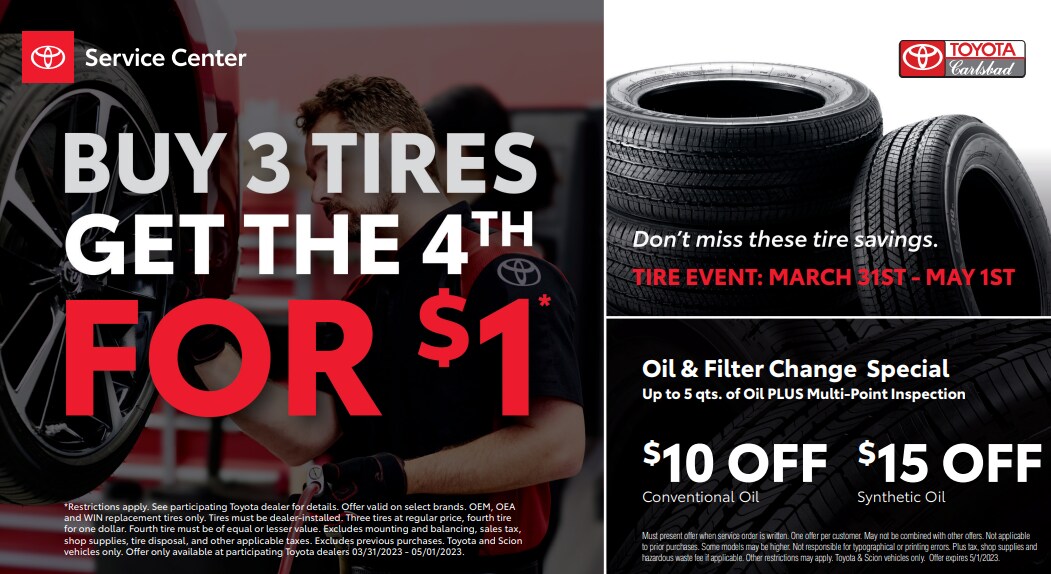 In the Market for Great Specials on Auto Service? Look No Further Than Toyota Carlsbad
Quickly answer this question: do you like to get good deals on everyday items? How about good deals on more expensive purchases? Of course, we know that you answered in the affirmative. Who doesn't like to get a good deal? 
Well, we want to let you know that a Toyota Carlsbad, we offer some really great ways to save money on service specials. Whether your vehicle is in need of a discount on an oil change, a brake repair or tire rotation, we hope you'll take a look at our service specials right away. These specials are frequently updated, so be sure to check back if the service you are looking for isn't currently featured.
Look, service for your car, truck or SUV is inevitable. So why not plan ahead and take advantage of cost savings with a service special from Toyota Carlsbad? Whether you treat your family to dinner out with the money saved, or put it toward your summer vacation, wouldn't you rather that extra money be in your pocket?
We are proud to serve drivers in the areas of Carlsbad, San Diego, Oceanside, Escondido, and San Marcos, CA. In our tidy and efficient service center, you'll find highly-trained, Toyota professionals who know this brand inside and out.
Whether your car, truck or SUV is in need of a tune up, or you know that it's time for new tires before you head for that cross-country road trip, we can help. We hope to see you soon at Toyota Carlsbad. Contact us today to schedule your service special and enjoy the cost savings that come along with it.