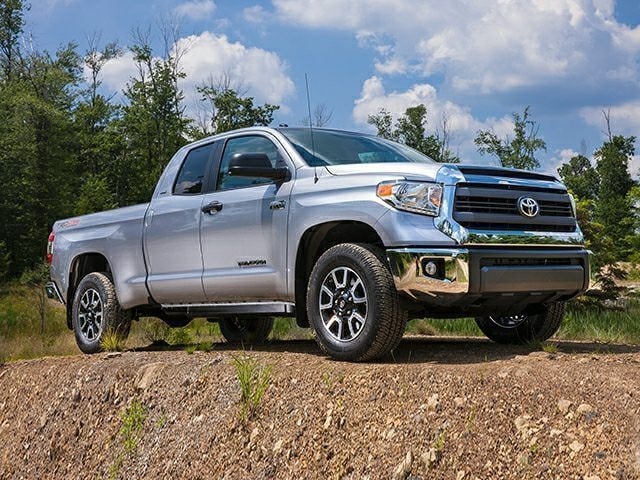 See How the New Toyota Tundra Outshines Competitors in Carlsbad

Weighing out your options for a pickup truck? Then popular models such as the Ford F-250, Ram 2500, and Chevrolet Silverado 2500 are likely on your list. However, we stand by the new Toyota Tundra here at Toyota Carlsbad because it exceeds expectations. Not only is it powerful in action and efficient on the move, but it comes with an assortment of high-end amenities as well! In other words, it presents a more desirable case than its competitors. Below are some examples why experts of our dealership in Carlsbad recommend this option to drivers like you from San Diego, Oceanside, and surrounding California areas.
Toyota Tundra vs. Ford F-250
Cost: The starting MSRP of the new Toyota Tundra is significantly lower than a comparatively equipped Ford F-250. Even with upgrades, the former maintains a more affordable price so potential car buyers and lessees can save more money.
Maneuverability: Sometimes pickup trucks are a challenge to drive due to their size, but the new Toyota Tundra is built to address this issue. For instance, its curb weight is well over 500 pounds lighter than the Ford F-250, and its ground clearance of 10.4 inches is 1.9 inches taller too.
Connectivity: The Toyota Tundra is more modern than the Ford F-250 thanks to standard technologies that come with it. Most notably, it has a Entune™ multimedia system that utilizes Bluetooth® to enable drivers to sync a compatible device for increased access to information and entertainment.
Convenience: When you have long drives ahead, it is nice to have features like Cruise Control that can take over vehicle operations. As such, the Toyota Tundra comes as a standard with this feature and others like it. Meanwhile, such conveniences cost extra to get with the Ford F-250.
Toyota Tundra vs. Ram 2500
Cost: Once again, the Toyota Tundra offers bigger savings than its rival. The starting MSRP of the Ram 2500 is thousands of dollars more, which means the monthly payment is naturally higher as well. Thus, our pick is more affordable for the average budget.
Performance: The base-level engines armed on both the Toyota Tundra and Ram 2500 are relatively close in horsepower, but the Ram falls just a little short when it comes to torque. Specifically, the Toyota generates 401 pound-feet of torque which is an exceptional figure for towing heavy loads.
Maneuverability: Yet again, the Toyota Tundra is a better option for those who prefer a pickup truck that is easier to operate. This is because it is nearly a thousand pounds lighter than the Ram 2500 and its ground clearance is as much as 3-inches taller.
Spacious: The last thing any driver wants is to feel uncomfortable as they drive. Thankfully, the Toyota Tundra is designed to keep you comfy. Its cloth seats are soft-to-the-touch and its cabin has plenty of space. In fact, it has more leg room and shoulder room than the Ram 2500 so you can stretch out!
Toyota Tundra vs. Chevrolet Silverado 2500
Cost: Of the competitors, the Chevrolet Silverado 2500 is the most expensive. On the other end of the spectrum is the Toyota Tundra. Even when you put the more advanced trims side-by side, you will see that the Toyota is still more accessible in terms of price.
Performance: Strength is a must-have for pickup trucks, and the Toyota Tundra delivers just that. With as much as 381 horsepower and 401 pound-feet of torque, it has no trouble surpassing the Chevrolet Silverado 2500 with its 360 horsepower and 380 pound-feet of torque.
Maneuverability: As with its other opponents, the Toyota Tundra outshines the Chevrolet Silverado 2500 when it comes to ease of use. Its lightweight structure gives it the upper-hand in efficiency, and its ground clearance-which is 1.6 inches taller-can overcome obstacles on the road without a hassle.
Technology: For hi-tech features, choose the Toyota Tundra over the Chevrolet Silverado 2500 because the former comes with an Entune™ multimedia system. Unlike the Chevrolet MyLink system, the Toyota variant includes a premium radio so you can stream music with better clarity and enjoyment.